Platelet Rich Plasma has become a proven, non-operative treatment strategy.
What to expect with your PRP treatment
The initial visit with Dr. Glen will be approximately 45-60 minutes when historical information is obtained regarding the nature of your pain. An orthopedic physical exam is then performed in order to diagnose what your pain is caused by and to get an understanding of the extent of the damage. Only after the exam does Dr. Glen look at diagnostic imaging (X-rays or MRI's). Then he compares his exam findings with what the imaging reports. At this point he will discuss with you (with pictures and models) what he thinks is going on and if he thinks you are a candidate for regenerative injection therapies. The number of treatments and costs are also discussed at this time.
Treatment
The actual PRP treatment only takes 10-20 minutes depending on the area of the body being injected. The platelet-rich portion is collected and injected back into the injured tendon, ligament, muscle or joint that has been determined to be a source of pain and is not healing appropriately. The number of treatments vary based on each patient's individualized condition but typically range anywhere from two to four procedures done over time. Patients typically experience a significant reduction in pain after the first or second treatment.
The area of the body is numbed with lidocaine. The PRP procedure is an injection, so there is some pain involved, but it is quick and short-lived. Immediately after the procedure, you will feel pretty good. The anesthetic is still effective for an hour or so. The area that was treated will become inflamed or swollen over the next 12 hours and pain and stiffness will begin. The area that was treated will feel like it was injured. This is because we have triggered the inflammatory and healing cascade. You are advised to go without ice or anti-inflammatory medications for 4 days before and 7-14 days after each procedure as this will slow down the healing response.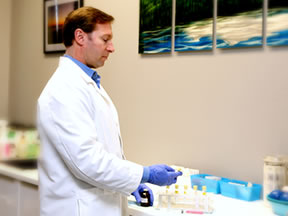 When can I expect to feel better?
The time frame for experiencing results is dependent upon the area of injury and the extent of the injury. On average, most patients start to see signs of improvement in the form of reduced pain or increased function within four to six weeks. Continuing a well-designed course of physical therapy and avoidance of aggressive physical activity or overloading the injected tissues is advised in the weeks that follow the injections. This is done to allow the tissues to heal best.
What you need
Please bring all appropriate diagnostic imaging and medical records to the first visit or bring by the office beforehand.
Clothing for physical examinations
I recommend athletic clothing: shorts, sports bra (for women), yoga pants, sweat pants, etc. If your clothing will not facilitate the exam then we will need to place you in a gown. I don't know too many people who look forward to wearing one of those!